The Bear-Market Rally in Stocks, Bonds, Mortgages Wiped Out: Why This Nails the Parallel to the Dotcom Bust – WOLF STREET
THE WOLF STREET REPORT
Imploded Stocks
Brick & Mortar
California Daydreamin'
Canada
Cars & Trucks
Commercial Property
Companies & Markets
Consumers
Credit Bubble
Energy
Europe's Dilemmas
Federal Reserve
Housing Bubble 2
Inflation & Devaluation
Jobs
Trade
Transportation
The Dow Jones Industrial Average on Friday closed about 300 points below its June 16 low, thereby having more than wiped out the bear-market rally gains. For the Dow, the bear-market rally started on June 17 and ended on August 16. During the two-month rally, the Dow had jumped 14%. By Friday at the close, it was again down 20% from its all-time high.
The S&P 500 Index, on Friday intraday, fell through its closing low of June 16 – the infamous 3,666 – and then bounced a little to close 27 points above the June 16 low, at 3,693. During the two-month bear-market rally through August 16, the index had surged 17%. By Friday, the index was down 23% from its all-time high.
The Nasdaq closed about 2% above its June low. During the two-month rally, it had soared by 23%. Many of my Imploded Stocks that are now trading for a few bucks, had shot up by 50% or more, and a bunch of them doubled, before re-imploding after mid-August.
The bond market – and with it the mortgage market – experienced a huge bear-market rally, but folks over there came to their senses two weeks earlier, on August 1.
The 10-year Treasury yield had spiked to 3.48% by June 14 (rising yields mean falling bond prices; falling yields mean rising bond prices). By August 1, the 10-year yield had dropped to 2.57%, and that had been a huge rally.
In the mortgage market, there was an even more astonishing bear-market rally: The average 30-year fixed mortgage rate had hit a 14-year high of 6.28% on June 14, according to the daily measure by Mortgage News Daily. The average rate then dropped by 1.23 percentage points to a low of 5.05% by August 1. Realtors were already talking about improving home sales. On Friday, according to this daily measure, the average 30-year fixed mortgage rate hit 6.70%.
The bear-market rally happened even as the Fed had already embarked on the most aggressive tightening cycle in decades, and had started quantitative tightening, meaning shedding Treasury securities and mortgage-backed securities.
The bear-market rally happened because markets – meaning folks and algos playing in them – had this fabulous reaction to the Fed's aggressive rate-hike scenario: They began fantasizing about a Fed "pivot" and about rate cuts and some even about QE all over again. Asset prices began to jump and yields began to fall.
Many of us in our illustrious comments on Wolf Street had been expecting a rally. And I drew parallels to the bear-market rally during the dotcom bust. During that rally, which lasted less than two months, from May 27 through July 17, 2000, the Nasdaq jumped by 33% without ever getting back to its old high. Ultimately, the Nasdaq collapsed by 78%.
That bear-market rally in the summer of 2000 suckered a lot of people back into the market, thinking that stocks would be going to the moon again, and they got crushed.
The 2022 bear-market rally started in mid-June and also lasted two months. It came as the Fed-pivot-fantasy mongers – including some well-known hedge-fund managers – had fanned out across the financial media, the social media, and the rest of the internet, asserting that the Fed would soon pivot, that in fact it wasn't even doing QT after all, and yada-yada-yada.
So we got a huge two-month rally, and the Fed-pivot mongers, including the hedge funds, that got out in time made a huge amount of money. But those people that believed the pivot fantasy and bought when the pivot-mongers sold, well, those folks took the losses. But that's how it always goes.
It was easy to see what they were doing, and it became a hot topic in the Wolf Street comments. On July 19, for example, I said this in a comment:
Out of the last 8 trading days, the S&P 500 finished higher on 2 days (including today) and finished lower on 6 days. We're due for a summer rally, but so far, it's been a pretty shitty summer rally.
In the summer of 2000, from May 27 through July 17, the Nasdaq rallied 33%, in the middle of what ultimately was a 78% collapse. Now THAT was a summer rally in a bear market! But it didn't get anywhere near setting a new high in the summer of 2000. Far from it. The high was 5,000 in March 2000. On July 17, 2000, it got back to 4,275.
The Nasdaq didn't set a new high until July 2015, 15 years later, and it took trillions of dollars of Fed money-printing to get there. Now the money-printing has stopped, and the Fed is doing QT. And CPI inflation is 9%, and the wage-price spiral has kicked off, and there is a chance that the Nasdaq is going to take a very long time to get back to 16,200.
I've been repeating the dotcom-bust parallel because it just keeps getting more parallel, so to speak.
The bear-market rally continued, to the point where on July 31, I warned in a much pooh-poohed podcast that the Markets Are Fighting the Fed, and that fighting the Fed would only cause the Fed to be more aggressive in getting its message across to the markets because it relied on the markets to transmit its monetary policies via the financial conditions to the actual economy and to demand – the markets are its "transmission channel" – and that the Fed would eventually win this fight.
The podcast got 317 comments on Wolf Street. The transcript of the podcast, published on August 3, got another 259 comments. This was a hotly debated topic.
Since 2008, the Fed has inflated asset prices with interest-rate repression and QE, huge amounts of QE. It caused the greatest asset bubble ever – the Everything Bubble.
QE was designed to make asset holders wealthier so that they then would spend a little more and thereby let some droplets of their newly-gained wealth trickle down. In 2010, then Fed Chair Ben Bernanke, in an editorial in the Washington Post, explained this theory of the "Wealth Effect" to the astonished American people.
The Fed got away with it because it didn't trigger a lot of consumer price inflation because consumers didn't get this money; it triggered a huge amount of asset price inflation because asset holders got this money, and with their gains from those assets, they chased after assets with this money, instead of spending it, and so there wasn't much of a trickle-down.
But in late 2017, with Yellen getting ready to hand over the reins to Powell, who'd been appointed Fed chair by Trump, the Fed started to phase in quantitative tightening. At first, the increments were so small they were hard to see. Then QT picked up momentum.
In early October 2018, markets began to tank. By November, mortgage rates hit 5%, and the housing market started wheezing. By Christmas 2018, the S&P 500 Index was down 20%. Even that small and slowly phased-in QT and little-bitty 25-basis-point rate hikes – just four of them in 2018, to only 2.5% at the top end of the target range – had a big effect on these artificially inflated markets.
In 2018, inflation was at or below the Fed's target, and the Fed was just trying to "normalize" policy, and it was just trying to bring its balance sheet down to a manageable level. It just wanted to get back to some kind of "neutral." Nevertheless, Powell came under withering pressure from Trump, who'd taken ownership of the Dow. And with inflation below the Fed's target, and with the Dow in free-fall, and with Trump keelhauling Powell on a daily basis, the Fed did its infamous pivot, and markets soared again.
The lesson was this: These artificially inflated markets cannot even maintain their level amid rate hikes and QT. Even little-bitty rate hikes, just four in a year, and small amounts of QT caused markets to tank, just like interest rate repression and QE had caused them to soar. It was becoming clear to everyone: QT was having the opposite effect of QE.
But in 2022, inflation has spiked above 8%, highest in 40 years, and has spread across the economy and is now spiking in services, away from supply chains and commodities, even as some goods inflation has started to unwind. And there isn't going to be a Fed-pivot until this inflation is making "compelling" progress, as the Fed calls it, in heading back to 2%, which could be a long way off.
There have been lots of people who said that the Fed will keep doing QT "until something breaks." Last time it did QT until the repo market broke. That was when the banks stopped lending to the repo market, which then blew out, which cause the Fed to bail it out in September 2019.
But this time, the biggest thing that the Fed is in charge of has already broken: price stability. Inflation is the worst it has been in 40 years. And the Fed is tightening in order to fix this huge thing that has broken – to bring this inflation back under control and down to 2% (as per core PCE). This could be a long and tough slog. And other things that might break along the way are by comparison just minor inconveniences.
Enjoy reading WOLF STREET and want to support it? Using ad blockers – I totally get why – but want to support the site? You can donate. I appreciate it immensely. Click on the beer and iced-tea mug to find out how:



Would you like to be notified via email when WOLF STREET publishes a new article? Sign up here.







Email to a friend
It's really going to be irritating to see political hacks pin all this economic destruction on Biden when it was Trump who pressured Powell to pivot just so Trump could look good to the MAGA's, just as Trump insisted his big signature being on those stimmy checks.
DC has been ZIRPing for 20+ years.
Both mafias (er, parties) own it.
The current administration miscalculated on how ineffective Fed was and how bad slow QT would affect the 99%. The inflation wasn't tamed and the speculators were handed their heads in back to back crashes. It's the worst of both worlds.
The administration needs to start quantitative tightening along Powell's neck ASAP if it wants to have any chance in 2024. The midterm is already lost and adminmay be forced to lame duck state in November that will give Powell too much power.
I remember well Trump running around with his hair on fire
screeching he was "in love with NIRP" as he tried mightily to bring it upon us.
European banks meanwhile, are still trying to get rid of it, it's a
disaster and flies in the face of common sense.
In 2016, Trump had promised to insure that retired folks would receive
3% on their savings, and Yellen tried to go there, but he did a complete about-face to try to buy votes for the next election. It didn't work because we learned that you can't take him at his word or trust what he says. I've lived for 14 years without interest income and was forced to make some investments in the market after T-bills stopped paying interest. Now I don't know which way to jump, I don't want to be out of the market again, having learned to distrust the banks.
We just have to hope some value stocks will survive what's ahead.
Trump lowered taxes for business. Also he owned businesses gave himself a pay raise, boy people are stupid
But her emails !
I'm surprised that Wolf allowed this clearly political post to exist, much less sit in first position.
Really???
'Nevertheless, Powell came under withering pressure from Trump, who'd taken ownership of the Dow. And with inflation below the Fed's target, and with the Dow in free-fall, and with Trump keelhauling Powell on a daily basis…'
That's not from a comment, it's from WR's piece.
Should it also not exist?
Depth Charge,
The comment was posted at 1:23 am when I wasn't paying attention anymore. When I got up, it had already triggered a bunch of replies, and it seems like everyone was trying to not go overboard.
Trump is just as guilty in poor fiscal management of the United States of America.
Trump is more to blame but Biden has done plenty of his own damage. On the issues pertinent to inflation and the rest of the subject of this article ie trade, monetary policy, spending Biden is altogether too similar to Trump in that his understanding of those issues is demented.
Congress always and everywhere has no role whatsoever, except to line their pockets.
Congress washed its hands of any fiscal responsibility decades ago, deferring to the Fed.
With the current bunch in congress it may not be such a bad thing…
You have to be a special kind of stupid to assign this solely or even in large part to Trump. There was little inflation during his years. There was, however, a lot of speculation. Congress could have targeted that by stopping their own insider trading and banning share buybacks, high frequency trading, pay for order flow, etc. Of course that would never happen.
Yes, Trump was FOS when he said his economy was the greatest in umpteen years. It did stimulate a lot of employment from what I can tell and made us self sufficient in energy but investment speculation was out of control as it had been for years. But the smooth brains dont like evil oil so now we get to beg various dictators for oil. Hows that working out tards?
Biden gave Powell another term. He could have put in someone with a more reality based perception of where the economy and inflation were heading.
He didn't.
Biden owns this, like it or not, because he is President.
Trump would perform even worse in this situation by calling for more deregulation and tax cuts for corporations and morbidly wealthy people.
Where are Biden's calls for price controls and profit gouging taxes?
Besides, does Biden even care at this point?
He's made his generational wealth.
Its comical/farcical the way people talk about him "entertaining" a run in 2024.
A bigger problem is that most people think their party is honest and the other one is corrupt. In reality they are both totally corrupt and nothing will get fixed until unlimited lobbying becomes illegal.
BINGO,,, give Dennis the prize!
Sooner, or it better be before we actually do have some more serious social upheavals, WE the PEONs MUST insist on revisions that at least approach more clearly the level playing field for all.
Very simple to call for, very not simple to enact:
Complete Term Limits.
Complete ONLY public election costs.
Complete CONTRACT from and by each candidate, with Complete and Clear results of incompetence.
Complete Insider Trading equality.
Complete Retirement and Medical Services equality.
Kinda Sorta equality of opportunity of Pursuit of Happiness…
OK, just dreaming, eh?
In reality, we could start by demanding Wolf for FED Chair.
I think your analysis is absolutely correct. You see more people (Jeremy Siegel comes to mind) suggesting this tightening is hurting working people and has gone too far. Interesting that Siegel is now an advocate for working people. In any event, if an economy with 8% inflation can't handle a 3% FFR, our economy is distorted beyond belief.
Siegel and his buddies have been cheerleading the counterfeiting for 15 year. Decades even. Now he says he's the buddy of the common person that his ilk predated with no remorse.
No tears for Siegel here. Nor for the criminal Fed.
What happened here was simple: Both wall street and Fed knew that markets will correct as inflation is bought under control.
Wallstreet needed to protect their big investors by dumping these stocks to naive retail investors. So they pumped up a Fed Pivot rally. Fed stayed with its low rate targets and slow QT, and so wallstreet managed to sell the Fed Pivot story to transfer the bag of crap to naive investors. They were immensely successful, as per the short but steep pump and dump rally.
A lot of these naive investors are voters, who are pissed that their speculative dreams are crushed and in reality job increments are lagging inflation. The intelligentsia will call them losers, but the fact is that Fed allowed this to happen with their slow QT and slow rate hikes. They were so slow that they also completely failed to reduce inflation that would again pass off voters in both parties.
It's sad that the administration may have to pay for Fed's mistakes when both parties were complicit in blowing the everything bubble that causes high inflation.
I guess more investors read wolfstreet and avoid getting caught in bear market rallies.
Yes! The rats ended up sitting on the dock, yelling bon voyage to the slowly sinking ship!
WA, don't feel sorry for the administration as it's complicit in all the economic screwing of the PEONS. Welcome to the club!
WA
The "pivot rally" also appeared like a well-orchestrated short squeeze.
Crush the shorts – fuel the rally – ride it to the resistance level / agreed sell range – media will help set up the bag holders – sell / short.
Like clockwork. 2 for 1.
Find the next support level and repeat.
Pure observation and speculation.
For the last year I have been saying "The Federal Reserve printed trillions of dollars (PPP, Bailouts, Stimulus). There is way too much money available. Reduce demand. Reduce spending. Inflation will follow.
Someone needs to explain common sense to the people on Reddit who feel they shouldn't have to do anything.
The people on Reddit should be redirected to Wolf Street.
I don't think Wolf would be too thrilled about the impact that would have on comment quality.
Massive QT would reduce inflation. Their $95 billion/month QT is "slow". They should bump up the QT and slow the pace of rate hikes for a more mainstreet friendly deleveraging.
I agree! Wolf wrote a very good article here.
According to what he wrote here:
"The bear-market rally happened because markets – meaning folks and algos playing in them – had this fabulous reaction to the Fed's aggressive rate-hike scenario: They began fantasizing about a Fed "pivot" and about rate cuts and some even about QE all over again. Asset prices began to jump and yields began to fall."
I would like to know what Wolf thinks when or if the Fed will Pivot.
My personal belief is they will pivot but I don't know when that will be. Also, I believe they desperately want CBDC. So, they are doing this on purpose. It's the end game to liberty and freedom.
A few months ago, I thought the Fed would pause at 4%. That now seems unlikely. So now I widened the range to where it will pause somewhere between 4% and 5%. The pause could last a year or maybe more. The Fed will then watch to see what inflation does.
As is constantly pointed out by the Fed and everyone else, there is a "long and variable lag" between rate hikes and any visible effects of those rate hikes on inflation. This lag is generally considered to be in the range of 12-18 months.
So based on this, the movements of inflation that we're now seeing and might see for the next 12 months are unrelated to the rate hikes.
After that we'd see inflation actually reacting to rate hikes – or not reacting to them. This will be a key moment. My hope is that inflation is seriously heading down by then. If it moves closer to 2% (core PCE), the Fed might talk about rate cuts.
But if inflation suddenly rises again – a nasty and well-documented habit of inflation – all bets are off. And this could get very rough; meaning if inflation rises 12-18 months from now, despite the current rate hikes. And there's chance it will do that. The Fed is keenly aware of that.
Now that "Pivot" is dead, the new BS seems to be "The Fed is overdoing it and killing the economy". There's always a bunch of whiners talking their book as if they were gods. Reality is that no one knows what's going to happen, but everyone has an opinion based on their asset exposure, political preferences etc.
Damn'd good, Mr Richter. It'll be interesting to come back and re-read this piece in January '23.
Not as much, but I am still hearing/reading cavalier allusions to the forthcoming soft landing; what good is a soft landing when it's right into a pit of chainsaws?
> what good is a soft landing when it's right into a pit of chainsaws?
Good point. We gently lay the patient down on a soft bed but the patient is still quite ill. And the narcotics are being withdrawn.
Which hopefully will not lead to even deeper oscillations between "discipline" and "pivoting" to relief. The folks not getting the trickled-down wealth-effect benefits now really won't be getting them. The howls will be heard and seen.
The "trickle down" myth. Pikkety's work shows that wealth trickles up and stays up.
"Trickle down" as well as "free markets" are myths that the wealthy and the oligarchs want the knuckleheads to keep clucking about.
Somebody ought to tell Liz Truss, How Now — she's doubling down on trickle-down theory straight into the teeth of massive inflation, a recession, and rapidly cratering Sterling. HMS UK is listing badly and taking on water whilst Truss and her drunken Tory crew consult the economic equivalent of astrological charts …
I do not see how their can be a "soft landing." This phase is going to be looked at as dubiously as the word "transitory" in a year or two.
You can't have meaningful asset devaluation without job losses. Asset holders don't just stop spending money in a vacuum. I have many clients that are very wealthy and in the long term will still be doing fine, but they are all starting to get tight fisted again in the past two months – deferring projects, forgoing travel and citing the same reason, the stock market.
If your retirement fund had $2 million three years ago and then climbed to $4 million, the psychological impact of a big drop back towards $2 million, even if you viewed that as adequate three years ago, is devastating. Panic sets in.
Multiply this effect across the whole economy. Homestay rental income drops, second homes go on the market, rents get driven downward, business suffer. This is just the blue-collar side of the market where I live and work. I'm sure, as much of you are more qualified to discuss, the white collar side will have the same problems.
Job losses (which get compounded by rents not getting paid), slow downs in spending, housing prices & rents decreasing will all combine into to a real recession, as they have before.
Bingo, Digger Dave. I've been saying for almost a year and a half now, vehemently, that the inflation we're seeing is largely being driven by asset holders (probably the top 20% or so). This is the "Ehh, who cares if I'm overpaying for a car, my stocks are worth double what they were!" phenomenon, and it's permeated every sector of the economy.
When you have excess demand (no, it was never about "supply chains") from the "wealth effect" the only way to rein in that excess demand is to eliminate the wealth effect, which means lower asset prices.
There was never going to be a soft landing. All the asset bubble did from late 2020 through early 2022 was pull demand forward. If people were emboldened by their stock or crypto gains to buy new houses and do renovations, they were only going to do so once. Now there wont' be those renovations in 2023 and 2024.
There was never a free lunch.
"There was never a free lunch". Tell that to the people who scammed $46 billion of unemployment insurance and $200 to $300 billion of PPP loans that were fraudulently obtained.
Your primary point is correct, but you still underestimate what's ultimately in store for the majority of people who fit your profile.
The amount of fake "wealth" which is destined to disappear is huge once the mania is confirmed as being over. When the article correctly states this is the biggest mania ever, it also means it's bigger than times like 1929. The Dow lost 89% into the 1932 low and other markets weren't nearly as inflated either.
Even adjusted for price changes, "wealth" has raced far above supply and production. That's why it's fake. Take a look at the current number of millionaires (most aren't actually wealthy) and billionaires and compare it to the past.
Most if not all of this fake wealth is destined to disappear, either through falling asset markets, currency depreciation, or both.
And what of those who invest in dividend stocks particularly in commodities. After all it is commodities that rise in price in an inflationary environment. The biggest commodity market is the price of energy, oil and gas and is ultimately the mother of all inflation drivers. There is a tendency to think of indexes as a homogeneous lot of stocks.. but there are vast differences in the viability of companies within and across their market sectors. There will be winners in both companies and sectors… just wtch Warren Buffet
I break it down into two components. The "wealth" that was created through the annual 2% inflation target is going to stay. The wealth that was created through expansion of p/e ratios and unsustainable government spending is at risk of evaporating quickly.
Dave P,
When you buy the shares of a commodity producing company, you're still buying a piece of paper, not a "piece of a business" per BS Wall Street marketing. Don't ever confuse the two.
Yes, presumably under an inflationary environment, these companies should in theory eventually do ok, but this doesn't change that at anywhere near current prices it's still absurdly overpriced for what you are actually buying which is the usual pitiful dividend yield.
But in a major bear market (the one we are heading into), a lot of things can happen that most don't expect: price controls and asset expropriations by foreign governments among them.
This is aside from the terrible balance sheets most companies actually have now too.
Do you foresee moratoriums again on the way?
You'll need to start reading tea leaves to answer this question. There's no doubt once you pull the free-money lever, it gets much easier to pull it again and again. But if we have a recession and the cause is widely understood to be too much debt-fueled money thrown into the economy, the pols are going to have a helluva time trying this approach again (but then again, American memories are notoriously short).
"Job losses (which get compounded by rents not getting paid), slow downs in spending, housing prices & rents decreasing will all combine into to a real recession, as they have before."
That's the idea. That's how you tame inflation. Powell acknowledged that. That's what the Fed needs to accomplish. And it will.
Fellow Wolf Richter Fan Club Members:
I post this only to point out we have not hit the bottom in inflation taming. From Craigslist in Eastern Central Florida:
We provide LABOR ONLY.
Our Rates:
(Per Worker)
5-8 Hours: $280 ($35 an hour if you use all 8 hours)
2-5 Hours: $175 ($35 an hour if you use all 5 hours)
0-2 Hours: $100 ($50 an hour if you use both hours)
Unskilled, no insurance, no tools, nothing. Cash.
Nothing Goes to Heck in a Straight Line
I hope you're right. I have lived in very popular Airbnb towns where until late this summer there has been no relief in sight. In the last few years people have been paying exorbitant sales prices based on future rentals being just as good as today. They assume that the wealthy will keep things afloat. This perception of lost stock wealth combined with inflation will hit the Airbnb middle class hard.
The wealthy (many legacy inheritors) I know are older and will vacation until they drop. Their kids will keep
vacationing on their parents' dime, assuming the families get along. The parents keep co-signing mortgages or otherwise funding housing too. I'm sure they think twice about jumbo loans now.
Thank you, Wolf, for reiterating the "pivot fantasy" arguments. It keeps me going after never having guessed that housing would inflate 50% regionally over the pandemic time.
Peter Schiff also called the new lows and the end of the bear market rally.
I work for a norwegian Company now aquired by an american listed company.
The amount of work going in to prepping quarterly reports, not mention yearly, is astonishing.
The bureaucracy implemented by accountants and economists would make the Soviets proud.
All this short sightedness dramatically reduces the efficiency of the business, and creates ineffiencies, or inflation, if you will.
It took a while for the fundamentals of this scam economy to break the fomo psychology. Now it's all the way down, and a paradigm shift ahead.
I fear there are shortages and violence there, but hopefully also something better at the end of it.
In the narrative of 'things breaking', I wonder if anyone is familiar with the theory espoused here:
I don't know much about it, but the claim is that the Fed owes interest on all of its liabilities, which will go up as they raise interest rates. That doesn't quite make sense to me, because I thought the Fed received interest on many of its holdings. If anyone can explain whether this issue has any merit, I would appreciate it – and I hope you don't mind me asking here.
Too much BS out there by hedge fund managers who want to achieve an outcome, including the one you cited.
I have covered the Fed's liabilities here. READ IT:
https://wolfstreet.com/2022/09/05/by-how-much-can-the-fed-cut-its-assets-with-qt-feds-liabilities-set-a-floor/
The Fed has two interest-bearing liabilities: reserves (cash from banks) and RRPs (cash from Treasury money market funds – as I explained in the linked article above:
— The Fed pays 3.15% interest on reserves.
— The Fed pays 3.05% overnight Reverse Repos (RRPs).
The Fed EARNS interest on all its $8+ trillion in Treasury holdings and MBS.
But the interest income from those holdings are based on the lower interest rates at the time when the Fed bought those assets. So the interest income may not be enough to cover its interest expense going forward for a little while.
And so what?
QT causes those two interest-bearing liabilities to shrink. That has already happened. Reserves have plunged by $1.1 trillion so far this year. RRPs have risen by $400 billion this year, so the net is a decline of $700 billion, and QT just started. So the amount of liabilities that the Fed is paying interest on is falling rapidly. And it will be a much smaller issue as the amounts decline.
In addition, the Fed remits its profits to the US Treasury. Since 2001, the Fed has remitted 1.28 trillion to the US Treasury. So now the Fed isn't making money, and it might lose money, so what? It will just not remit anything to the Treasury. This will just increase the government's net borrowings.
In addition, the Fed prints its own money, and can lose all the money it wants to, no problem.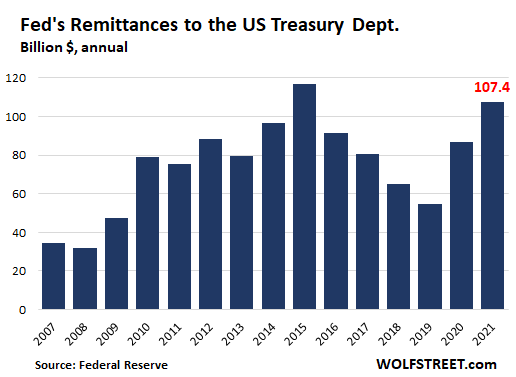 Thank you, Wolf, for your articles and explanations. It still isn't easy to understand how all of the aspects of the Fed and bank reserves together, but rereading your article is helping, thank you for bringing your understanding of this topic to the masses. I look forward to understanding how it all comes together someday.
Your explanation deflates the idea that the Fed can 'blow up' its balance sheet if interest rates continue to go up. The idea that the Fed printing money to cover theirs and the federal government's interest losses will lead to QE is confusing. If anyone else would like to help deconstruct this argument, my posting name leads to the link in question, which is maybe the proper way to share them?
Do your own homework or just read harder. You already got an answer.
In terms of covering the losses, the Fed will NOT print money. What I said was "In addition, the Fed prints its own money, and can lose all the money it wants to, no problem." This means that it cannot default and therefore will never go bankrupt. But it will NOT print money to cover its losses. The Fed already said how it will account for those losses: Like in corporate accounting (such as "intangible assets"), it can take losses and account for them as an asset on its balance sheet for a couple of years until it starts making profits again, and then it can amortize that asset account with those losses against that income. And after a few years, it will be all cleaned up. This really isn't a problem, companies do it all the time, and it won't involve QE, and it can continue to do QT just fine.
Those payouts on reserves and repos could be considered inflationary if the fed has to print to fulfill payment, no? And with rates staying higher for longer, payment on government debt will also be funded by deficit spending(more printing) by the government. Seems like until the government doesn't stop spending above its means, printing in some form will be used, which is inflationary.
No, reserves and RRPs are just removing cash from the markets that would otherwise chase after other assets. This cash would always go look for yield, and now the Fed has it tied down on its balance sheet. It's a form of demand-driven QT. Overnight RRPs were specifically started in April 2021 to prevent short-term Treasury yields from falling below 0% because there was too much cash in the system chasing short-term Treasuries.
The Fed has now locked the rates of the repo market between its two rates, the repo rate that it charges, and the RRP rate that if pays. The Fed has raised those rates in lockstep with the federal funds rate. This makes sure that short term rates in the markets are rising in line with the Fed's rate hikes for the federal funds rate. This is how the Fed is pushing up market rates to fight inflation.
With inflation deeply entrenched in services, the FFR may have to cross 5.5%, and we may see a prolonged downturn which could unwind as much as 80% of the market gains that led up to the run-up prior to 2020.
I personally wish ALL the necessary unwinding of artificial asset price inflation would happen swiftly. Knowing Powell is in charge, though — we could be in the economic doldrums through mid '25.
Another well written piece.
With plenty of goodwill, I cannot go along with your final sentence, which will be sorely tested.
Are you referring to emerging market instability?
Your years in Japan have taught you well, Mr Richter.
Like a Japanese master sushi chef wielding a sharp knife, you gut and fillet the produce of the markets better than anyone I know.
All eyes will be on Sept 30th PCE number. A year or so from now, I could see the Fed increase the "2% target" to a "3% target" as getting back to 2% could easily take 6-12 months longer than back to 3%. The timing also takes into account the Feds desire to avoid being perceived as meddling the 2024 elections…
We are already conditioned for higher inflation at this point, thus 3% being 1/3 of the 9% peak inflation would probably be embraced by the populace as a victory and thus good enough…¯_(ツ)_/¯
3% PCE is like 4% PCI.
The entire long term treasury bond complex relies on long term PCE eventually getting to 2% or slightly lower.
If the bond market sniffs the Fed is actually going to allow a higher long term inflation rate than advertised then that could cause a major repricing in the long end of the curve, a situation which could cause major disruptions in credit markets… and the Fed knows this.
Basically, there are no free lunches.
Long rates won't increase if the Fed suppresses them via QT like Japan. They might be able to kick the can for another decade or two, like Japan did by controlling markets. Would it work in the US? Lets hope they don't try. They need to put a free-market stake in the ground, now!
If the Fed increases its inflation target, all long-term rates/yields will jump (prices drop). Investors are expecting inflation to get back to 2% in a couple of years. If the Fed says,nah, they're going to stay above 3%, when OOPS investors are going to figure that into their yield requirements, and yields and rates will jump. The Fed knows this, so I don't think they will do this.
As we get 6-12 months before 2024 elections, there will be a lot of pressure to reduce the economic "pain" and thus moving from 2% to say 3% inflation rate goal is the short term"easy button" to push, even though a terrible idea long term. I'd say 50/50 at this point, yet it is on my "Fed Swan" risk list to immediately buy Stonks.
There are some unused mechanisms for the Fed to reduce yields and rates if a higher inflation target becomes necessary. For example the Fed could re-open the swap lines so Japan and Europe can stop selling treasuries (dollars) in an effort to prop up their plummeting currencies. When looking at an inverse 10 year yields, it matches currency depreciation for both Japan and Europe. So the "easy button" for keeping yields contained is re-opening swaps so Japan and Europe can stop selling truck loads of treasuries as FX levels are part of the yield equation for bonds…
The global FX/Bond/Stock systems are so overly complex that even the 1,000 PhD Fed economist are most likely confused and going to have to trial and error the next 1-3 years to reverse this economic chaos. I just hope they react more quickly when they make mistakes as the "Transitory" denial was both ignorant and childish to the extreme. Now I'm afraid they are going to over-do it and thus over compensate for an inexcusable failure of managing the global monetary system…
Arguably they already made a huge mistake in allowing the "2%" inflation "upper limit" to become a "symmetric target", thus allowing inflation over 2% without a policy response. That's a big part of how the "transitory" inflation was tolerated for too long. Had they squashed the inflation as soon as it crossed 2% we wouldn't be in the current tough spot.
Let's also not forget that the Legal Mandate is for "Stable Prices", which really means no inflation at all…
> Like a Japanese master sushi chef wielding a sharp knife …
I think of the Taoist butcher who makes one cut and the whole carcass falls to the right pieces:
"the biggest thing that the Fed is in charge of has already broken: price stability."
This is a deft phrase that should be resonating everywhere now.
What if the thing that breaks is the overseas Central Banks that hold large values of US treasuries and are currently suffering from uncomfortably large devaluations.
Consider Japan, with 1.3 trillion of USD treasury reserves. If they start selling into the market to support the yen, although that won't ultimately be a defence more a stop gap, it would effectively disable QT by the Fed for a some period of time. Whether or not the Central Bankers are still cooperating or not I have no idea what they are talking about behind closed doors but I imagine that Japan, ECB and BOE are not all that happy about being additionally devalued by dollar strength additionally to their own ill-thought out loose policies.
I wonder if the UK and Japan see this as a way to devalue for commercial advantage as well, because US exporters must be getting crucified.
Why would other central banks selling US treasuries disable QT? Au contraire it would reinforce it.
Because when the Fed sells Treasuries the money goes into nothing and disappears, when the Bank of Japan sells Treasuries they get dollars, which they then use to buy yen.
So the Fed which is calibrating to 90 billion/month or whatever there number is, but with Japan also selling clearly that makes QT harder because the market can't absorb too much without affecting prices, and Japan Central Bank not absorbing dollars, those dollars only change hands to yen holders.
The Fed wants an orderly high sale price to offload Treasuries, not be in a hot potato competition to get rid of them globally.
Anyway as I said I have no idea if they are doing that, but clearly its an option that looks good!! particularly as they can repatriate the Treasuries into yen at top dollar valuations getting 20% more than normal.
The whole point of QT is to lower treasury prices i.e. raise yields to raise borrowing costs to suppress demand and lower inflation.
If Japan and other central banks want to help do that it's great. Not disabling at all.
@pauper i can't reply to you directly for some reason, but the whole point of QT is to lower inflation -without- raising borrowing costs because the only two triggers the Fed have are QT and the base rate. Raising borrowing costs would only ever be desirable to reduce inflation, otherwise what would the point be. Anyway we see it differently.
NO, wrong. The whole idea of QT is RAISING LONG-TERM INTEREST RATES without having to raise short-term interest rates THAT far. So instead of having to go 10% or 15% on short-term rates, it might work with 5% short-term rates and plenty of QT that will bring up long-term rates, such as the 10-year Treasury yield to 7% and mortgage rates to 8%+.
Japan selling Treasuries is no different than me selling Treasuries. Your theory is just crazy.
We both get dollars. What we do with those dollars is unrelated to QT. But it's related to the currency. If Japan then buys yen with those dollars, it creates temporary demand for yen, and it props up the yen. That's all it does. If I do that, it will do the same thing.
Maybe his point is that the Bank of Japan (or you, or anyone else) selling treasuries at the same time that the Fed is trying to do QT makes the Fed's job harder, as you need more potential buyers to absorb the excess that is now on the market.
I'm confused myself, however.
The UK doesn't have much of an industrial base. It helps tourism though.
The UK also has persistent large trade deficits.
This combination guarantees that the majority of British are going to be poorer or a lot poorer with a crashing GBP exchange rate.
LordSunbeamTheThird
1. All these central banks have to do is raise their interest rates. DUH!!
The BoJ is committing a mind-numbing idiocy. Inflation is rising in Japan, and interest rates are still negative, last one in the world. The yen needs to get crushed as punishment for the BoJ's idiocy. Kuroda is out next April, and policy will likely change then, but maybe not until then.
The ECB has now U-turned and its rates are shooting higher, and if they go up fast enough, the euro will be stable. But this will take a while. It needs to catch up with the Fed in terms of rates and QT.
Countries that have borrowed in dollars – Argentina, Turkey, Mexico, etc. – because borrowing in dollars was cheaper than borrowing in their own currency, well, they have got coming what they deserve — or rather the idiotic investors lending them this money have got it coming.
Countries should NEVER borrow in a currency that is not their own. And if they have trashed their own currency (Argentina, Turkey, et al), to where they cannot borrow in it, well then, investors stupid enough to lend them dollars should get crushed by the country's default. That's how it is. Stupid investors get wiped out. Capitalism works if you let it.
2. Your assertion – "it would effectively disable QT by the Fed for a some period of time" — is completely fabricated BS. No relationship to reality. Tightening denier BS.
"Countries should NEVER borrow in a currency that is not their own. "
This is why the Euro and euro denominated debt for the vastly different countries and political environments in the EU has never made sense to me. Always seemed doomed. Now there is that moral hazard new acronym mechanism thing where the EU will "stabilize" or whatever by buying profligate government bonds while selling other countries bonds to duct tape the whole shenanigan together.
Debt denominated in euros controlled by the superstructure of the EU is foreign debt. A country can inflate away debt in its own currency.
I hear the weather is nice in Cyprus.
Japans $1.3 trillion in treasuries will not last long when the Japan FX exchanges run around $1 trillion a day. Japan is the "idiot in the coal mine" canary, and the way they have pulled off their "economic sorcerer" so long is the special aspects of the culture and other non-repeatable constructs beyond the reach of most countries…
The cure for self-inflicted complexity will play out over the next few years for the entire global system in ways that are simply uncalculatable due to illogical human emotions driving leadership roles on all levels. Yet we can calculate our best guesses and attempt to diversify accordingly…and thus why I read Wolfs web site as we all have bias tendencies, emotional blinders, and comprehension difficulties when it comes to financial matters that are beyond any single humans ability to fully understand…
One thing for sure is there will be more bear market rallies. The rallies will only stop once muppets have lost all their money.
I went to cash in July and had to suffer through the summer bear market rallies. I can credit Wolf's writings for giving me the fortitude to resist getting lured back in and punished, as I have so often done in the past.
Don't fight the Fed. Words to live and prosper by.
Looking at the technicals
I think a bear market rally is coming.
Market is way oversold.
Marco wise it has ways to go down as well
I suggest everyone read articles by Jeremy Grantham from the last couple of years. I don't beleive anyone timed this whole bubble better (the ramp up, the top, and the last bear rally) better than he did (well except for moi).
I suggest everyone read articles by Wolf Richter from the last couple of years.
Based on these, I sold every risk asset I owned this past January and am comfortably holding cash. Will be looking at Treasuries in the next couple of months as the rates have come up enough to become interesting.
Don't know or care about this other jamoke. My timing has been outstanding.
Wolf, very much looking forward to the next article on timing of the end of QT.
Why not short equities rather than hold cash? I've been making good money that way this year.
It takes gut to do that and you have to be nimble by watching your positions closely.
I've got a small short position now but haven't ever come even close to going "all in" on the short side because of deranged monetary policy and mania psychology.
If it weren't for those two, shorting this market over most of the last 25 years would have been like shooting fish in a barrel. Valuations have mostly been in deep outer space the entire time.
Well those bear market rallies would have put me to the test had I been holding bear funds.
If you go short, take a close look at the late 2008 charts to see if you can stomach the +5-10% days that happen in panics. And then remember that the entire financial establishment collectively has to own all those assets you're shorting, and they can and will Change The Rules mid-game to put you at every possible disadvantage. Including banning short selling so you're forced to cover at worst possible time.
Reading Wolf goes without saying.
This is financial education site among other things. Comments too.
From recollection, Jeremy Grantham was premature with his timing and sounded the alarm a second time and was correct then. He is definitely worth listening to.
one should remember that the stock market is a market of individual stock groups that all don't go up or down at the same time. basic industry stocks bottomed in march of 2000 just as the nasdaq was peeking. It was a great time to buy the rails for instance.
Im not seeing anything bottoming out yet. Chinese internet stocks (already down 75-80%) perhaps will bounce, but not sure it is the bottom yet. Emerging markets setting new lows, same for Japan and Europe. Gold may go to $1200, copper to $2.5. Perhaps stocks like Verizon worth a look.
Verizon has a garbage balance sheet. It's a "fortress' compared to much of corporate America but awful versus the past, except recently.
I also don't believe their revenues are as stable as previously, more vulnerable to substitution from what used to be non-traditional competitors.
I'd like it a lot more (at lower prices) if the balance sheet was sound and I thought the dividend was relatively safe.
I don't view it as a potential long-term hold anymore, only for shorter timeframes.
Verizon just raised the dividend last month.
Verizon (like AT&T) depends on a model where you get a "free phone".
I won't invest in either of them.
People who can afford highly inflated service fees will eventually realize that they can afford a phone.
Or, so my thesis goes.
Been buying my own phones and paying much, much less for service for years now. I've saved a lot of money.
If I can figure out, millennials can (and will) too.
Free phones went away years ago.
As even main stream pundits are talking about the recession, help an older, single millennial man.
1. What will be the approximate bottom during this recession? S&P will be around 2000?
2. Lets say, a man has 80k in retirement all cash, 50k in hand, what index fund will be good for him?
3. Can a dividend ETF $VYM in investment account and $VTI in retirement would be enough?
4. is it ok to buy $F, $MRO and $WEN, each $1000 worth at the bottom?
5. Right now treasuries,3 months are the most attractive and safe option.
6. Britney Spears is my Queen.
> Britney Spears is my Queen.
Then, put it all in Caesars. The roulette wheel, on double-zero (not the stock).
6. Britney Spears is my Queen.
Spank yourself
Great article, Wolf. Really appreciate how you lay out the facts in a narrative that's easy for non-financial people to follow along.
I get the sense now that it's not so much the economy and possible recession that could bring down our darling monopoly corporations and banks first, it's their stock valuations. Huge companies have for years spent the profits on share buybacks and borrowed further cheap money for the same purpose.
No wonder that now Wall Street has no choice but to fight the Fed. If any good will come out of the market dumping, maybe it will be the breakup of the money pit monopolies.
Just see "More (maybe much more), from the same. If you know history …. nothing is "new"…. see as example:
https://en.m.wikipedia.org/wiki/Encilhamento
The Encilhamento was an economic bubble that boomed in the late 1880s and early 1890s in Brazil, bursting during the first Brazilian military dictatorship (1889–1894) and leading to an institutional and a financial crisis. Two Finance Ministers, first the Viscount of Ouro Preto and then Ruy Barbosa, adopted a policy of unrestricted credit for industrial investments, backed by an abundant issuance of money, in order to encourage Brazil's industrialization. This policy of economic incentives created unbridled speculation and increased inflation, and encouraged fraudulent initial public offerings (IPOs) and takeovers.
This is a factor that I expect to ultimately coincide with the biggest US bear market in history: garbage corporate balance sheets.
Most of the weakest companies are going to become insolvent during the first down leg. The IPO and junk bond markets are already effectively shut or were in June. Negative cash flow companies need to keep raising money just to survive.
Another group are leveraged to the gills with current high coverage ratios but whose balance sheets are still actually garbage. These coverage ratios will crash in a recession and their funding costs will soar, both for new and refinanced debt. Many of these companies will go bankrupt too.
A third group are blue chips who aren't nearly as highly leveraged as the first two but still are versus prior experience and at this stage of the economic cycle. Many or most are cyclical but even those that aren't will still find themselves under financial stress in a historical bear market later.
With the 39YR bond bull market over, all corporates will find their interest costs soaring later as they have to roll over debt. This will vary by company but it's coming.
As profits and stock prices tank, C-suites will also issue millions of pink slips in a futile attempt to support their stock prices and stay out of bankruptcy court.
What's your opinion of annuities
You didn't ask me but the present value of an annuity will decrease as interest rates rise.
Augustus Frost
I have read your post as a valuable explanation of how and why nominal interest rates may enter the stratosphere.
For me, solvency risk is a more relevant and enduring factor in the forward direction of interest rates and eventual market outcomes than inflation.
The crux of your analysis also provides for consumer and government debt.
Not just garbage corporations but garbage countries. The tide will go out on them, hard.
One thing to remember is that many of these companies don't need to "outrun the bear", financially. They just need to outrun their competitors, pick up market share and thus survive long enough to catch the eventual turnaround wave.
Thanks Wolf. Excellent piece. I'm holding the hand rail. For dear life.
Thanks for clarity. No fed rally after the Sept fed mtg. Nothing goes in a straight line. There are 40 years of money management firm emergence and education that say recession will bring down inflation. The the feds will reverse course. The QE period was longer and more accommodation for probably longer than the Fed wanted but political pressure caused them to break. Now we truly have a housing crisis ie too expensive with people trapped in high priced negative principle mtg with low interest rates and dropping values.
So far the analog market drops have been tracking both 2008 and 2000. Thanks for the curves Wolf. Buyer beware says the Wolf. 1-3 month treasuries are a safer choice vs trying to time this market. One could easily wake up and see a giant bear marker short covering rally or likewise capitulation. Probably both as Wolf points out the market professionals need someone to sell too. The Money Managers are all trained not to time the market just rotate into less volatile products that then can get inflated because of the herd. Employment has not really been affected yet. The effect of QT takes 6-9 mints has not resonated to the large employers but will come. That would be the Christmas present.
40 YEARS of deflated interest rates,and people think this will go away in 12 months,I have Oceanside property in Arizona comes to mind ,.God people are ignorant
But most peoples own no stonks, so?
Millions of them will end up unemployed later anyway.
That's the "so".
Bear markets don't occur in a vacuum.
The stonk market is not the economy, no?
Just about every pension plan, 401K, IRA, Roth IRA, etc in the USA has stocks in it in some form or fashion.
In the real world, C-suites manage their companies to maximize the stock price to at least some degree.
If the stock price tanks or their earnings take a big hit (concurrently in big bear markets), they respond by cutting costs to try to support the stock price.
The easiest way to cut costs is to eliminate jobs but any cost cuts impact someone's job somewhere.
There hasn't been a single major bear market in history that wasn't associated with much higher unemployment.
It won't be any different this time. That's a complete fantasy.
And so the narrative turns 180 degrees now that stonks are going down. (Rolling eyes.)
The une rate starting to rise, and continuing to rise seems like the last major plug to loosen that will allow the debt/liquidity to drain with greater velocity. The fed will look at the mean une rate over the last 50 years, and allow it to continue up.
"Unemployment Rate in the United States averaged 5.74 percent from 1948 until 2022, reaching an all time high of 14.70 percent in April of 2020 and a record low of 2.50 percent in May of 1953." (Google)
The une rate (3.7 today) would have to more than double to reach the average during the early 80's when inflation was similar to today, but without near as much debt as today.
They might look for a convenient war to get into to prime the fed printing presses into action again, cause that is what they do.
War is good for the U.S. economy as it fuels military spending and keep the manufacturing plants running at full tilt. Think about all those new aircraft, guns, shells, bombs, etc being made.
I spent some career years in brass and copper manufacturing plants and we had good times when the orders for the brass shell materials were in house.
To the above post, war has only been viewed as good for the US due to the lack of "blowback".
Practically every American implicitly believes that the US can attack any country with impunity because there has been no response on US soil.
Wait until it happens to see whether it's still viewed the same way.
Blowing stuff up is good for economy = see Broken Window Fallacy
@Augustus Frost "Practically every American implicitly believes that the US can attack any country with impunity because there has been no response on US soil." Not true. There was a blowback 21 years ago this month. Maybe you mean our elected officials in D.C.
But but but I was told this is the tightest labor market since medieval times. What gives? Godzilllions of great jobs are everywhere, falling off the trees is what I've been reading.
"But this time, the biggest thing that the Fed is in charge of has already broken: price stability."
Having broken the Darwinian price discovery function of markets a long time ago.
Winston, will you please add a date to that point in history when there was a "free market", i.e. no cornering of a given market, no collusion in a given market, no monopolistic power that can drive out competition through price-cutting, no lobbying or political control of a market through regulation, to name a few goblins.
Please signal when it was that markets were truly free and price discovery was real. And where was that proverbial "level playing field"? I think the three bears devoured Goldilocks. But no one wants the kids to know that.
Why is one foolish king better than 1000 blind ones?
Darwin was a dumb dingleberry inbred Wedgewood teacup making trust fund flunky that filled the role of justifying the religion of Adam Smith and his invisible wanking hand.
Competition is not the law of nature. The law of nature is cooperation. Your own body is mostly foreign cells and plants cannot grow organically without the assistance of beneficial microbes.
Law of survival of the fittest is the law of predation. It is the justification for capitalism, which in itself does describe a part of nature. It described the trash removal of nature and is thus garbage.
Real nature is cooperation and symbiosis. Sometimes it is brutal. But one can't take the blood and guts of nature in the wild and extrapolate that into an entire overarching financial system that promotes parasitism and effective cannibalism.
Look into people like Orwell and Huxley (who I admire).
Inbred plutocrats all.
Darwin also plagiarized Wallace like Newton plagiarized Gottfried Wilhelm Leibniz. Somehow these rich kids keep getting credit for things they did not do.
Now we have Bill Nye the science guy and Inclusive brown space man podcasters representing "truth."
Same thing as many years ago but different flavor, but more chemically.
Ima barf now
1) The Dow completed an S-Wave to Feb 2020 and closed above, leaving
behind a large buying tail. That was down 21% from Jan high, 42% of the wave from Mar 2020 low. The trend is medium strong. The Dow should exceed Jan high and easily reach : 37K + 0.80 [37K – 17K] = 53K, gliding like an eagle, circling effortless higher, using JP thermal energy.
2) A bearish option : If the Dow retrace 50%-62% of the move from Jan high and build a congestion area for several months, but instead of rising to a new all time high the Dow will plunge. We don't know what will happen next.
3) All we know is that JP choice of QE abstinence during the next recession,
if it comes, the want of dollars will rise due to dollar shortages, stocks
RE and commodities will plunge and JP $2.4T RRP maginot line might not hold.
4) If the x2 McC minorities leader takeover, the McC duet will do whatever they can to prevent a second term.
5) For fun and entertainment only in the casino.
Wolf's podcast
"This Inflation Will Be Tough to Get under Control " was one of the best posts I've read as it affects everyone right now. I had my homeowners ins go from $625/yr in 2010 to $1,475 now for the same coverage. I called my ins company and asked them why the increase of that magnitude? Their answer, Inflation in building costs and repairing homes. Total BS. I cancelled my policy with them and went with another company with better coverage for $875/yr. The consumer should be smarter when shopping for services and this would help bring down the costs for everyone.
The exact same scenario happened with me recently.
The NEW insurance company just asked me to cut some tree branches growing over a dormer on the back of my house, but I saved over a 1000 on the premium by switching.
The former insurance agent told me the premium couldn't get lower, in an email but she made it part of an email that had the adjuster/actuary email address. They had my house way overvalued. She was quite upset when I contacted him, like one does not have the right to question things about your own home. Regardless, it was worth getting my ire up; change is good
Imp-daily research, an important part of a healthy breakfast….
may we all find a better day.
Were they including the value of the land in the insured amount? Big source of overcharging.
Jeff No house ins. just considers the total replacement costs of rebuilding just the home- land, and even the foundation are not part of the calculation.
They use their own "formulas" to figure it out, not the inflation data available by the census bureau. Plebians like myself are not privy to that formula.
Excellent point. Most companies and people Do Not know the basics of fighting a price increase. Start with saying NO and get to work on alternatives. ????
SW, I'm a novice when it comes to dealing with insurance, rarely check the premium unless it's a big jump, for both car and home.
Question: Has anyone used an "insurance broker" (not one specifically for an insurer, like Allstate)?
Yes, with great success. Having established a relationship with them has been cost effective. Obviously you need to do your due diligence to verify that you are in fact getting the best value
Use a broker, or several and shop rates for the risk you are realistically exposed to. You can go broke "sleeping good at night" but can sleep better saving money. Better coverage and lower rates are available at many companies.
Higher deductibles, challenging values and buying only what you really need will also bring the price down. Almost everyone overpays for insurance out of fear and misunderstanding.
If your insurance provider is known by the average person by name, you are paying too much. The heavy advertisers are the most expensive, so choose one that your friends have never heard of.
Insurance is nothing to trifle with. I'd research not just the premium, but the ability of the company to pay and how many flaming hoops they put you through before they do so.
I pay too much for insurance. I know it. I don't care. Why? Because I had to use it twice for not insignificant amounts of money and both times the claims were paid and pit-bull level legal representation provided if required.
Just checked my premium on my HO-5 policy: $900ish in 2017 (when we bought this crackerbox) and $1,100 ish at the latest renewal (July). However, in that time the dwelling coverage has increased from in the $450K range to $600K+ range, contents increased $130K in coverage, and I had also added some endorsements since that time for service line coverage and major systems coverage (probably $100 of the total increase there alone).
It's just not costs to rebuild that have changed… it's building codes and, depending on the age of your house, the cost to "bring it to code" could be significant. Earthquake compliance in CA is one major one and hurricane ties/strapping is another along the coasts. There's also the wildfire situation and those costs of rebuilding are shared among all policy holders – not just the guy who gets wiped out.
Reminds me of the guy I know who canceled his collision insurance to "save money" because his car was "old". What he failed to account for was the increased value of the car due to limited inventories and high demand, despite being "old". It got totaled. No coverage. Have a nice day. So what did he "save"?
Giving up the possibility of payment is not a good trade I agree, but I'm not talking about shysters. There are many national reputable insurance companies that are simply less expensive.
My own personal home is valued, even now, at 1.7 million. I pay less than 700 a year for a million dollars liability coverage, 5000 deductible (I can fix anything), high medical, personal property etc. coverages also. Full code upgrades, replacement cost policy. I do care if I pay too much so I don't.
Every year when I get my policy there is a value cost increase due to the company's estimate. First thing I do is call my broker and ask her to reduce it to the minimum they will allow. She does and I save money. Am I more at risk? Slightly but only until the policy year expires and I saved money. Never made a claim.
Earthquake ins in CA is usually to cover someone else's home. My single-story tract house won't have enough damage to even cover the astronomical deductibles, look it up, attached to all EQ policies, which means I am paying for something I'll never get. Plus I can fix anything myself and am willing to do so to save money. Insurance is a long game with small savings over years adding up to a substantial amount.
Every car I own, once it gets to be 5 years old (most are when I buy them) has no collision coverage, the second-most expensive cost behind liability. Been doing this for years and never had a claim. I'm so far ahead now that even if I just threw the car away I'm still ahead. I've saved a lot over the years thank you.
My strategy is not for everyone but works for me very well. If you want someone else to cover your risk you have to pay for it. If you are willing to assume some of that risk then you save, Simple. Buy what you are comfortable with.
Doug P:
Wasn't talking of earthquake insurance. If your house gets hit by a tree and requires substantial reconstruction, it has to be brought up to current code. Bracing. Metal brackets (strong ties) on soft stories and patio structures. Then there's electrical codes that have to be met. Ranch houses can be knocked off their foundations.
You're lucky on the car insurance. Both accidents we've had in the past few years were the result of someone hitting us. The last one (to replace a front bumper and left front fender) was nearly $10,000 due to the electronics in the bumper and grille which were unceremoniously amputated at an intersection. Both times our vehicles were stopped – rear ended once and clipped the other. The one $10K repair makes up about 10 years of full coverage automobile insurance premiums on that vehicle. It's over 5 years old (2017) so using your formula, I'd be out $10K to get it back on the road just to save a few hundred bucks a year. The risk of living in a no-fault state.
Certainly you can cut your insurance costs. We choose not to, as with today's litigious society, you can get sued for sneezing. Construction costs can balloon in a heartbeat (lumber costs over the past years, copper costs, labor, debris disposal, etc.), hidden issues (like the buried oil tank we had that had to be removed and the ground pollution mitigated) can also sink your ship and if those issues arise, you're not going to be able to adjust your policy ex post facto. Basing the insurance coverage on it's "value" is not a path I would take. What it can sell for and what it would cost to replace it can be two wildly different numbers.
Contents insurance: Have you priced furniture lately? Flooring? The wooden chair that I'm sitting on (part of a set of 6) now sells for $1,400 each plus tax and shipping from Maine. For chairs. (No, I didn't pay that 20 years ago when we bought them). The table is nearly $10K today.
Another story: A neighbor of ours owned a house in one of the Canyons in SoCal. He thought was was a genius by under-insuring it as "it's never burned before". It ultimately burned in a wildfire. Lost $400K on just the replacement value vs. insured value. To add insult to injury, he couldn't afford to rebuild it due to the cost vs settlement, and then the country comes along and made him tear it down, demolish the foundation, and haul it, and all the contents and burned cars away (which he didn't have comprehensive insurance on). Never did find out what that cost him – probably ate most of the insurance settlement. Land fills are expensive.
I won't trip over $10 bills to pick up pennies.
Most of the time, your local agent just acts as a broker. Real insurance companies have a lot of assets, and they work with smaller companies. They have no real physical product.
Insurance companies bet that not much will go wrong, while customers like us bet that it will; by law we must have the insurance.
The big ins. companies pay actuaries really good money to insure they will make huge profits, bigger than Vegas; people must have insurance, but they don't have to gamble and they can shop around.
I recently dumped Geico who kept raising rates despite no accidents since 2001 when I originally signed up with them. A local statefarm agent explained all their offerings and consequently I moved home and car insurance over to State Farm. Got a good deal on umbrella and a couple 20 year life policies as well. At the beginning of the transition news broke that state farm had been meddling with politics and getting involved with companies trying to teach kindergarten kids about sexual orientations. I held off the transition for a month due to that and the agent knows they will lose all my business over such shenanigans.
Umbrella policies only come to the table AFTER all other insurance is exhausted. How many people use their policies to the full-stated amount of coverage? I asked my broker how many claims have actually paid out over her 25 years of selling them. One. For them it was in fact needed, and paid for by all the others that will never use it. I don't have one myself but it is comforting to some.
DougP:
Being one who happened to have the misfortune of needing to use my liability umbrella, it was a godsend. The attorney's fees / court costs / investigators alone would have probably have nearly wiped us out. If we had lost (we did not), the settlement they were seeking certainly would have x's 3.
Maybe I just know unlucky people.
I switched to one a couple of years ago as they were much cheaper than what I was using. I notice though, the price increases since then haven't stopped. The best advice I have heard is to shop every year regardless of who you are using.
Name the company ,I need to save money. Retired
The bear market isn't over until the Fed stops hiking interest rates. Wait for that time. Until then, as Mr T. once said, "I predict painnnn."
Wolf, can u comment on how the price of the dollar may contribute to the fed needing to pivot.
Thank u for all your posts and information. I've been reading your daily posts and learning so much, I'm fairly new to understanding this hot mess.
It doesn't. I'll just repeat what I said in a comment above:
1. All these other central banks have to do is raise their interest rates. DUH!!
The BoJ is committing a mind-numbing idiocy. Inflation is rising in Japan, and interest rates are still negative, last one in the world. The yen needs to get crushed as punishment for the BoJ's idiocy. Kuroda is out next April, and policy will likely change then, but maybe not until then.
The ECB has now U-turned and its rates are shooting higher, and if they go up fast enough, the euro will be stable. But this will take a while. It needs to catch up with the Fed in terms of rates and QT.
Countries that have borrowed in dollars – Argentina, Turkey, Mexico, etc. – because borrowing in dollars was cheaper than borrowing in their own currency, well, they have got coming what they deserve — or rather the idiotic investors lending them this money have got it coming.
Countries should NEVER borrow in a currency that is not their own. And if they have trashed their own currency (Argentina, Turkey, et al), to where they cannot borrow in it, well then, investors stupid enough to lend them dollars should get crushed by the country's default. That's how it is. Stupid investors get wiped out. Capitalism works if you let it.
Hi Wolf,
Great analysis, as usual. This time is different. The USD is the prettiest pig in the pen. With many currencies approaching 40-yr lows against the dollar, I'd like to see you write an article about the effects of that.
I just now posted the same comment here twice about this in reply to other commenters. Have a lot. I don't want to post it a third time.
Are annuities a sound investment for 403 money
Annuities are junk sold by commissioned salespeople and I'll do anything for a dollar insurance companies. And selling them into another tax deferred container like a 403b should be criminal. I suspect the hucksters are out in full force with a declining stock market routing how safe and guaranteed these pieces of shinola are. Caveat emptor!
Hi Wolf,
Great analysis, as usual. This time is different. The USD is the prettiest pig in the pen. With many currencies approaching 40-yr lows against the dollar, I'd like to see you write an article about the effects of that.
Maybe look up Plaza Accord. could be headed there sometime soon.
I wonder about the last line, all the collateral damage being minor inconveniences on the way. While stocks are always a casino, and bad bonds / over leveraged junk companies getting cleared out is long overdue, I think there are already signs of FX breakage and that is where things might get more serious. What happens as sovereign countries default if they can't pay for food and energy as their credit is wiped out? The consequences are too interesting to look at, fortunately there are cute squirrel videos.
Please see the two comments about this that I posted a minute ago.
Wolf:
Maybe you need a new acronym: RTFGDC, the "C" being comments.
IMHO, it's not just when he stops raising rates, but for how long they stay at elevated levels. The silly part is that these levels are not elevated by historical norms. Personally, I hope that rates stay at these current levels at a minimum and let the economy correct for 12 years of insane stimulus. If they reverse course again, we'll be right back where we started.
Oh, and the real pain doesn't start until jobs start disappearing. I've said this repeatedly. When everyone got laid off in tech during the dot com bubble is when the real pain hit(and when Greenspan started playing games with interest rates).
Wolf, I am 100% convicted that you are correct and I'm personally sitting all cash since mid April. Didn't even blink during the summer rally. Those who argued for the Fed pivot, for one reason or another, simply fail to recognize that market crash of 90% and unemployment hitting 20% is vasty better outcome than the inflationary destruction. To be dramatic, Fed prefers you to be sick for a couple of years than to die a horrible death.
"Vastly better outcome"? Remind me not to read your comments.
Have not touched my 401k balance, but being the simple minded guy I am, all I can NOW see is my 401k balance being reduced about 6% just as I an approaching the RMD time.
Its as if the incompetent Government had dreamt this up……..oh, wait….
Well, if you're only down 6% I would say that you are doing pretty good. Relatively speaking.
I just noticed this "mission" on the Fed's website:
"The Federal Reserve, the central bank of the United States, provides the nation with a safe, flexible, and stable monetary and financial system."
I must have a much different understanding of "stable" than them.
For the time being just short this market using inverse ETF'S. Hold some cash and a small quantity of precious metals. SRTY is a very good choice at the moment.
As mentioned here and elsewhere, all of the pivot propaganda lured in the dumb money providing exit liquidity for the pivot purveyors. It seems like that play will repeat multiple times until the real pivot and holding an inverse ETF would be quite risky.
"Even little-bitty rate hikes, just four in a year"
Just a small correction (and I think Wolf Richter knows it): at 1% an increase by 1% to 2 % is huge. Doubled.
At 10 % an increase by 1% to 11% is small.
Further increases by small steps relative to a higher base have less impact unless you want to hit a certain point (for example: fed is absolutely sure it will have to hit 5% and stay there).
If you understand percentages, you realize that "doubling" from an extremely low base is still a tiny increase. If an increase from 1% to 2% is "huge," is an increase from 0% to 1% astronomical? I don't think so because nominally it's still only 1%. Doubling something that is close to zero, still leaves you close to zero.
Wolf:
I've had a CD ladder with a local bank for the past 14 years. One of my CD's is coming due Sept 30th and the rate they're offering to renew at is laughable. In the past rate cycle (ha all of three years) they actually gave decent rates but this time its about a straight rip off with regards to what you can get a one year Treasury note at. Would you try and haggle with the bank or take the money somewhere else?
I doubt you can "haggle" with your bank. You're the "loyal" customer, and you therefore get the worst rates.
If you don't have a brokerage account and therefore cannot get brokered CDs, you might consider opening a TreasuryDirect.gov account, with a link to your bank. It's easy to do. This will allow you to buy any kind of Treasury securities, including I-bonds which you read so much about here.
the true societal value of 'loyalty' and 'work' in 'Murica often seems akin to that of pocket lint in designer jeans….
may we all find a better day.
True. But you might even understate the attitude of finance.
The banks that do a big business in credit cards call people who don't miss payments "deadbeats". The financial industry really is happy with wage slavery for the rest of us. This is not new or unique to our country but it may be a little more of a treadmill here in 'Merica.
Older people remember before 401k's became so prevalent that Wall Street was viewed with extreme suspicion on almost any issue. That has changed quite a bit.
Just as your "credit score" is how profitable you are to the bank, and is separate from your true creditworthiness.
Ed7-'extreme suspicion of Wall Street' was burnt into my consciousness by my Roaring '20's/Depression-era grandparents-as you aptly point out- and the primary reason that i wandered into Wolf's most-excellent establishment…
may we all find a better day.
Mr. H:
I bailed on two credit unions this year for that exact reason. I know the president/ceo of one of them personally. No negotiation for the anemic rates, even with a friend of 20+ years. I took the funds elsewhere and into the brokered CD arena at a few different houses.
One of the brokerage houses, associated with a major bank, is paying $1,000 if you place $200K of "new money" into an account with them. They have a FDIC insured deposit account that is paying @ 2% (before the last Fed increase). The money is readily accessible by transferring back to an account at the bank (overnight transaction). The only catch is you have to leave the fresh funds there for 90 days… They also offer brokered CD's.
You can ladder brokered CD's from as short as 30 days with multiple choices as to term. Some pay monthly. Others pay at maturity, quarterly, or semi-annually.
As wolf has pointed out, if you want to buy CDs which is questionable in a rising interest rate environment (that's my opinion), open a brokerage account at Schwab and buy the "brokered" CDs through them. The banks are not your friend. Discount Brokerages like Schwab also have checking you may attach to your account. I haven't used a bank or credit union for decades. Like the big full commission brokerages they are riddled with conflicts of interest.
Why buy CDs when they are subject to state taxes? Buy from treasurydirect.gov instead, and you not only avoid state taxes, but also get a higher interest rate.
1) It's hard to dislodge inflation.
2) The CPI stall. DXY reached 113. CPI/DXY is down < 2018 high.
If DXY produce a trigger it might decline. The CPI/ DXY ratio might rise.
The Dow breached 2020 high, closing @29K. Options :
3) The Trend is medium strong. The Dow will easily rise above : 29K + 0.80 [37K – 17K] = 45K or above. The CPI/DXY ratio will rise. Inflation is be sticky.
4) A bearish option. The CPI y/y might dive underwater. Viscosity is sticky.
Deflation is stickier. Pain will replace QE.
For the mathematically inclined, taking Wolf's thesis of the parallels between bear market rally in the dot-com bust and the bear market rally this year, allow me to offer the following calculation:
x = 78 * (23 / 33)
x = 54
where:
78% is decline in NASDAQ from top to trough
33% increase in NASDAQ during bear market rally in 2001
23% increase in NASDAQ during bear market rally this year
'x'. estimated decline in NASDAQ from top to [coming] trough 2022/2023
So I got a prediction of 54% decline in NASDAQ (from 16200 to 7450) based on Wolf's thesis of similarities between bear market rallies in NASDAQ.
I am writing this in semi-serious manner, thing are surely very different this time around (inflation, debt levels, geopolitics etc.). But it is good to have some crude back-of-envelop quick estimate I think.
AK
Should you ever decide to go from semi-serious to serious, I suggest you reject the NASDAQ as a benchmark and forget every other forecast you've ever studied – really.
You've identified a meaningful dip in your calculations, which means, at least to my way of thinking, your forecast has merit. It might be too conservative. It's brave to put it out there.
September 29th 2008.
Those who are old enough to remember will.
Isn't that timing just amazing ?
It's the same thing over and over again. We csn't help ourselves. But then again: it's just money.
The "asset owners" in Toronto are greedy and boorish as hell.
"My house is valued at $2 million", etc while they continue to work in jobs that someone who is in real need is supposed to pay for. Property taxes are still at 2016 rates in Toronto and are hopefully, up for an update in 2023.
The Canadian Dream is over, and I could care less if the Federal Reserve induces a recession.
If that means lower rents, lower home prices and less hubris in Canadian society then so be it.
The working class in Toronto are angry and fed up with working paycheque to paycheque with no chance of ever owning a property anywhere in Ontario.
It's nt even that.
Tent cities and a park encampments are becoming a growing problem, and what do the Mayors of Toronto and Kitchener Waterloo do?
They send armed police with their steel-toed boots to kick down the tents with the unhoused inside and they continue to kick them as the unhoused laid down helpless on the debris.
Armed police being sent to protect and serve the asset class.
What the Bank of Canada and the FED did was to create inequality so high that having a middle class job does not guarantee shelter.
If and when the stock market crashes, there is an unspoken hope that real estate goes along with it. The working class in Canada and USA have suffered a lot with food prices and extremely high housing costs.
The future of the stock markets depends on how much economic damage is required to tame inflation, not just now, but on a continual basis going forward.
I think the Fed will attempt to untie the balloon and let the air out a little bit at a time, so unemployment never rises to a unacceptable level. The Fed is very concerned about inflation, but once it drops to 4-6% their concern will have to shift to extended unemployment, assuming unemployment levels rise as a result of inflation battle.
Hop on the see-saw. It's going to be a fun ride. I think what we can count on are elevated inflation in the 2-5% range and elevated unemployment in the 4-6% range. The days of 2% inflation and 3% unemployment are gone.
In this environment, you'll have to make money off the volatility, and market manipulators know that, so it will be boon times for them. It won't be good for long-term investors.
We can't expect anything, because the Fed can change its mind at the drop of a hat.
Shana Tova !
My nearby hot tub installer received a new truckload shipment this week, and there is a record number of houses under construction. Vehicles are still flying off the nearby used car lot. This means the good times are here to stay regardless of what Wolf says. 😉
On a more serious note, during my recent trip to the supermarket, I was pricing items in my basket at $5 a piece when figuring my total before getting into the checkout isle. I found myself putting items back. (I have plenty of food.) That is the real world for those of us living under the poverty line.
Rent up 33%, cup of coffee up 58%, cup of tea 30%. My treat "on the town" is a $5 bowl of ice cream, for now.
Thanks for another informative article Wolf!
(The majority of Americans will soon be sharpening their metaphorical pitchforks. Seeya at the polls! I have no idea how people with vote, because of preference falsification. Will people vote with their heart or their wallet? )
Roger Dodger,
"This means the good times are here to stay regardless of what Wolf says. ;-)"
Hahaha, you need to read my articles on retail spending and consumer spending. I've been saying that consumers are spending money like mad. I get needled for saying that because people want me to say that consumer spending is collapsing, or whatever. But it's not. Through July, consumers have outspent inflation just fine. We're going to get August consumer spending next week, and we'll see if this continues. So make sure to read my article.
This amount of consumer spending is one reason why inflation is so high — and I've been saying that too. Consumers are still flush with money, and they're spending it.
In terms of "used cars flying off the lot" – let me assure you that you have no idea what's going on in a dealership unless you work there. Just looking at it means nothing. You don't know what they buy and what they sell, and you don't know what they wholesale and what they retail. You don't know if they're just moving vehicles around and reorganize the lot. In addition, it's just one store, and it doesn't say anything about the industry.
In terms of the US overall, used vehicle retail sales in UNITS are down 15% year-over-year. Used vehicles is one place in the economy where consumers have gone on a buyers' strike because of the ridiculous price spike. And those prices have stopped spiking this year.
Wolf
While the Fed continues to try to cool inflation, there is a debt ceiling vote scheduled, tentatively, for December, if I'm not mistaken.
It's almost a certainty that the ceiling will be raised so the US doesn't default and lose its AAA rating and status.
However, doesn't this also allow additional spending – mostly in the Military Industrial Complex – which may counter the measures taken by the Fed? Or does the debt ceiling have little to no effect on inflation?
Also, I see some comments pinning inflation on specific administrations. Isn't it fair to say this inflation snowball started when the gold standard was abandoned – the MBS was created – Glass Stiegal repealed – Greenspan – and so on? The only choice was to can-kick (until now), unless you wanted to be voted out, right?
NO the Great Inflation started when the Fed under William McChesney Martin Jr. re-established stair-step case functioning (and cascading), interest rate pegs (like during WWII), thereby abandoned the FOMC's net free, or net borrowed, reserve targeting position approach in favor of the Federal Funds "bracket racket" in 1965 (presumably acting in accordance with the last directive of the FOMC, which set a range of rates as guides for open market policy actions).
We should have learned the falsity of that assumption in the Dec. 1941-Mar. 1951 period. That was what the Treas. – Fed. Res. Accord of Mar. 1951 was all about.
"However, doesn't this also allow additional spending?"
No. The amounts of money to be spent and what exactly it is to be spent on is decided by Congress. Congress then tells the Administration how much to spend on what, down to the smallest detail. That's the amount that's going to get spent.
Then Congress turns around and says, but wait, Administration, you're not allowed to borrow the money needed to spend what we told you to spend. This whole thing is a freaking charade that is used by one or the other party to extort something from the other. The US is the only country that has this stupidity built into its system. It NEVER slows down spending.
I haven't updated it in a while, but here is my Debt-out-the-Wazoo chart. Note the debt ceiling fights, and how the debt then spiked afterwards. Like I said, it's just a political charade.
What we need to slow spending in Congress is 10% Treasury yields. That would get this people in Congress to take spending a little more seriously.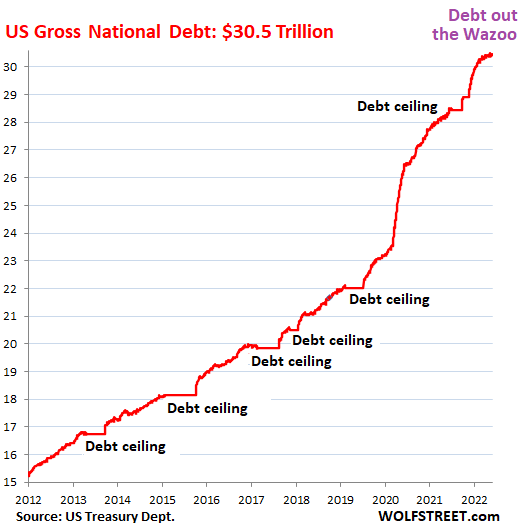 Thinking of selling my primary residence and renting and putting the proceedes in Treasurys. Please give your opinion on if this plan sounds like its worth the hassle of moving.
My advice is don't make major life decisions on what you read in comments sections on the Internet.
Got-methinks i see a tongue in your cheek…
maqy we all find a better day.
A word of caution to everyone jumping in fully shorting the market now. The stock market does not move based on fundamentals. It's based on sentiment and frequently moves against what "makes sense."
We are now at a point where bad economic news (ie: rising unemployment, etc) will be "good news" for the market. From a sentiment analysis standpoint, there should still be one wave up – meaning new all time highs – before a major bear market begins in earnest.
I'm seeing the fuel developing to take us there, despite everything the Fed is doing. They don't have to backtrack on anything for this to happen.
You should take out a second mortgage on your house and go all in.
I would say the markets use the Fed to transmit their policy. The difference in 2018 the monetary base was still relatively small. The economy rests on dual mandates: money supply growth, and supply chain issues, which goes back to outsourced manufacturing. Both contribute to inflation. The Feds dual mandate is employment and price stability. If you hold those two mandates next to each other you see one, we need more labor (productivity) to solve supply issues and two, rolling back the money supply, while the dollar is in high demand, is a tough call. Fed is only officially concerned with credit, not the dollar. Powell and Bernanke denied responsibility for dollar policy, while setting up dollar swap lines and the like. The dollar is going two ways, losing value to inflation, while the forex dollar rises. That won't end well. They could cure inflation, unemployment and lose the currency.
Hey Wolf,
what % of your market short have you covered on this first leg of the bear market rally correcting? Or are you putting on more shorts than before?
I raised my cash from ~20% to ~40% during the ralley, avoiding ~15% of losses. I redeployed about 5% on Friday, and I already got buyer's remorse catching one falling knife.
The short is doing just fine, untouched and original size. I'm holding it until I write an article that has this in the title: "The Longest Short Ever or Whatever," likely when I cover it at a smallish profit after expenses, in other words, a lousily timed but correctly theorized trade :-]
I much prefer the 2000 summer bear market rally. The 2022 rally is so bougie.
Looking at the move in the UK to start slashing personal taxes and business taxes, I get the feeling that it's the only way a government can start shielding people from the combined effect of mortgage rates going up, higher energy, and high inflation costs before it all ends up in a financial disaster. Wage increases will not touch the sides, plus companies are struggling to stay afloat anyway, so the only way to try and delay the destruction is by taking less from people and businesses in tax. It was interesting that Biden commented that trickle-down economics won't work, and I wonder if he will still press on with the target to reverse the Trump tax cuts and increase taxation. With both the US and UK in a similar state with high inflation, hugely inflated real estate, and increasing energy costs, if both leaders take a very different approach to taxation it could be interesting to see what the difference in effect if any will be – and at which point is either central bank forced to start dialing back the pressure.
I have been watching on YouTube those Bond Traders who believed in the Pivot are now in total panic, screaming "something must be done". No doubt they went long on bonds for their clients and/or themselves, and looking at big losses. Hopefully no one at the Fed will listen to these Wall Street crybabies and keep focused on inflation.
I have been expecting a recession since the tightening cycle began, but was told that the unemployment rate (U3) was still too low. I'm pretty sure that the US is already in a technical recession, Europe is in trouble and China is grappling with a real estate crisis along with ongoing challenges associated with its Covid Zero policy.
I don't see any way a recession is avoided under these circumstances, and I anticipate that unemployment rates will rise as a lagging indicator.
John316 ZH says~ 18% of homes were purchased by investors with variable rate loans in the last two years that are now going through the roof. They will absolutely need to unload them and Powell hinted at that.
Here's what I'm wrestling with. The global economy had a 20 year episode of deflationary forces through 2020 (China, global excess savings, demographics, tech advances, etc.) which pushed many countries to reduce interest rates to 0 or below, including the US. As a result of concurrent economic softness and other factors eg. COVID, in the past couple of years, central banders and politicians have increased monetary and fiscal stimulus to levels never seen in history (except perhaps Germany after WWI). This has finally overpowered the deflationary forces and caused an inflationary surge. But now, the Fed is actively committed to reducing the inflationary surge to its 2% target using whatever monetary policies required even though its economic models are useless in this situation. This is probably the correct policy in the circumstances, but the question is 1) Will the inflationary impulses overwhelm monetary policy for years, or 2) Will the deflationary forces described above reassert themselves and on the back of a global recession drive prices increases back to sub 2% and below? The answer to this question is important for every investor's success.
Your email address will not be published. Required fields are marked *







Holy-moly mortgage rates close in on 7%.

It's like a dam broke. And now higher interest rates and mortgage rates for much longer, with lower asset prices, as the Everything Bubble gets repriced.

The ridiculous price spikes now face Bank of Canada's monster rate hikes, QT, and spiking mortgage rates.

"Housing market will have to go through a correction … to where people can afford housing again": Powell

But these sales happened during the "Fed pivot" fantasy that pushed mortgage rates down to 5%. Now mortgage rates are near 6.5%.

Copyright © 2011 – 2022 Wolf Street Corp. All Rights Reserved. See our Privacy Policy
About Author