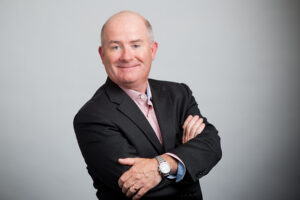 The newly named president at FCA in Philadelphia reflects on his career, industry changes he's seen and hopes to see, and where he heads to unwind.
What drew you to a career in healthcare design?
In my early career, I worked as an architect in the historic restoration field, and being located in Philadelphia, that was an exciting field. However, I wanted a career where I could create spaces to influence the way people experience the present, and have great design make a difference for people in need. Creating healthcare spaces is very rewarding, as healthcare settings are naturally very stressful places. Seeing the impact of creating calming and healing spaces gives great strength and purpose. And now many years later, as a result of the pandemic, creating stress-relieving spaces for caregivers, and seeing the frontline worker reactions to these spaces, has delivered a new sense of meaning for me, for my firm and my career.
What was your first healthcare design project?
Designing an endoscopy suite for Einstein Medical Center in Philadelphia. I learned a lot about what patients experience in this intrusive procedure and the care that goes into scope storage and sterilization. It was a lot of fun and seemed very complex at the time. I then went on to add a neurosurgical microscope to an operating room for a brain surgeon—then I understood complexity.
What's the biggest change you've seen in healthcare design during your career?
The advancement of technology and its use in the healthcare industry. Everything from electronic medical records to advanced imaging and robotics. The way we diagnose and treat cancers is one field that's changed so much. It's amazing to watch and be part of the transition from cutting, burning, and poisoning to immunotherapies and the healing experiences of infusion therapies.
What's a challenge you'd like to see the industry address in the next five years?
One of the largest challenges we face is the sheer cost of care delivery, which continues to climb. If this industry is to be sustainable, we need to be leaders to our clients about creating multifunctional, flexible, and cost-efficient healthcare delivery spaces.
 
Three recent healthcare design projects and your role
1 Hackensack Meridian Health, Bayshore Emergency Department Pavilion, Holmdel, N.J., principal-in-charge, but I assumed the project management role during construction.
2 Hackensack Meridian Health, Old Bridge Medical Center Emergency Department, Old Bridge, N.J., principal-in-charge, and again, I assumed the project manager role during construction.
3 Atlantic Health System, Morristown Medical Center, vertical expansion of the Gagnon Pavilion, Morristown, N.J., principal-in-charge.

An unexpected item on your desk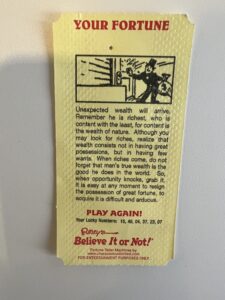 A ticket from a Zoltar machine I played many years ago. Zoltar's quote says, "Although you may look for riches, realize that wealth consists not in having great possessions, but in having few wants. When riches come, do not forget that a man's true wealth is the good he does in the world." I've always loved that quote.
Outside the office, we'll likely find you …
Metal detecting or hunting for the perfect specimen of green sea glass on a beach. [image]
What's a new habit or hobby you've picked up during the pandemic?
Spending more time on social media such as LinkedIn or Facebook. Before the pandemic, it was hard to have the time or interest there. A new hobby is jigsaw puzzles, up to 1,000 pieces.

Dog or cat?
Dog. I grew up with them and I have the sweetest golden Cockapoo, Cody, who is my best buddy.
Coffee or tea?
Coffee. A single cup in the morning from a convenience store to start the day. My homebrew is never as good.
Fiction or nonfiction?
Fiction. I love Tom Clancy and military fiction.
Cocktail of choice
Bulleit Bourbon Old Fashioned over a large ice cube.
Hidden talent
People tell me I have a high emotional intelligence quotient. I can read people, their motives, and a room very quickly. It helps being married to a counseling psychologist.
If you weren't an architect, you would be …
A professional treasure hunter.

Favorite …
Show to binge watch Seinfeld. I can pretty much quote every line from every episode!
Weekend activity Wintertime: hiking the trails of Ridley Creek. Summertime: Gardening, metal detecting, or hanging with the family on the beach.
Band/musical artist Band: U2; musical artist: Yiruma. I grew up with a strong appreciation for classical music from my father who had 35,000 classical LP's, so anything Beethoven or Vivaldi is also a favorite.
Color Green, of course (I'm Irish)!
Guilty pleasure Buying house plants. I can't get enough of them—my house is a jungle.
Sport Ice hockey. I used to play as a kid.
Team Philadelphia Flyers.
Book "Tribe of Mentors" by Timothy Ferriss. It's full of great quotes and experiences from well-known people.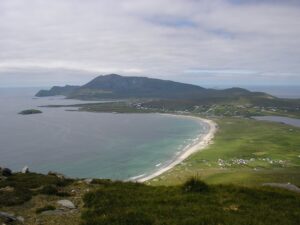 Vacation spot Achill Island, County Mayo, Ireland. It's just magical and unspoilt. It has a modern bridge now linking it to the mainland, but you can walk the beaches for days and never see another person.

NEWSLETTERS
Follow Us On
© 2022 Emerald X, LLC. All Rights Reserved